Chelsea Biennale -Oct'22
Oct 10, 2022
The exhibition at Amsterdam Whitney Gallery is very special exhibition for me, as this is one of my first in the most prestigious art district of CHELSEA, New York City. The opening reception on 8th Oct, 2022 was beautifully planned, and gallery was filled with people walking in for the Gala display of art from artists across the world. And the cherry on the cake was "Kristal Hart" interviewing all the participating artists and art lover/collectors at the opening reception.
Here is the link to my artworks displayed at the gallery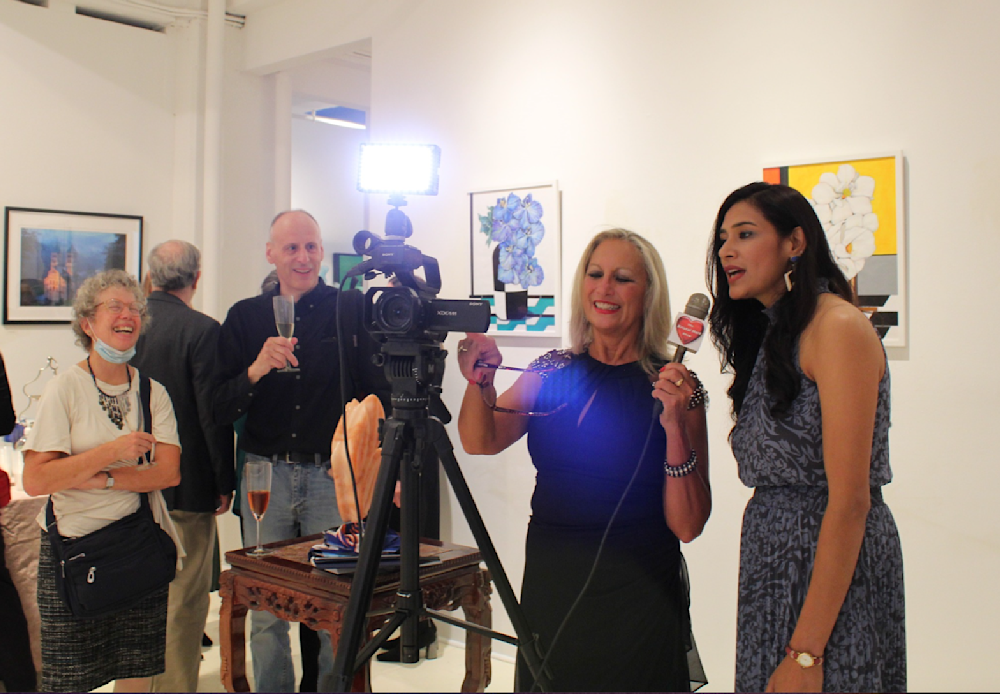 Here is the Press Release written by Gallery Director - Ruthie Tucker
---------------
"Nature always wears the color of the spirit," proclaimed Ralph Waldo Emerson. Spiritually responding to this exclamation is Aprajita Lal whose nature-inspired oeuvre enjoys a co-relationship with Mother Nature.

Chromatic and dynamic, her landscape and floral watercolor paintings boast an exuberant intermix of dazzling colors which are intermingled with expressive emotion. By offering a visual interpretation and emotional response to the environment, Ms. Lal effortlessly blends colors to contribute to exciting organic dreamscapes which communicate her awe of nature's eternal capacity for renewal and regeneration. The concept of examining the timeless interconnection between art and nature and color, transposes Aprajita Lal's artistic visions into a tangible, visual vortex where extraordinary hues burst forth, enervating every hue in the spectrum, energizing our interaction with the universe.
Successfully distilling a singular scene into a filtered moment in time, Ms. Lal's nature dioramas achieve a delicate balance by probing an inner depth and a dynamic power of the terrain, resulting in an emotive and aesthetically memorable scenario. By subjectively connecting to nature's vital energy, her oeuvre encapsulates the emotional power of the world, and the visceral moment is translated to eternity. As she transcends the everyday, these sensorial images evoke eternal visions within the viewer's own personal relationship with nature, as she transcribes its colors, shapes, and rhythms.
With the belief that color is the uniting force of her nature oeuvre, Aprajita Lal's paintings appear at first sight, calm and harmonic, but when studied closely, the veneer of harmony and tranquility soon gives way to a multi-layered, rich labyrinth of hues. Deeply connected to color and to spirituality, Ms. Lal infuses
her colorific dazzling palette with sumptuous hues which dance on the surface. Dramatic in composition, evanescent light incandescently illuminates the sublime emotional vistas resulting in atmospheric romantic dioramas. These divine opalescent windows to the world' radiate the spiritual majesty of nature.
Masterfully crafting her compositions with a constellation of colors, Aprajita Lal displays a complete understanding of the artistic language, employing intuition and spontaneity. Powerfully integrating intensity of color, mood, and texture into each kaleidoscopic composition, swirling, expressionistic brushstrokes form a luscious jewel-tone color wheel which complement the intriguing nature scenes.
Creating luxurious textures in nuanced, lush layers of watercolor result in brilliant hues. The overall effect is one of visceral expressionist introspection and aesthetic intrigue. Fluid and imaginative, her intermix of a cauldron of colors point to a strong artistic identity in which each hue and mark overflow with exploding vitality.
Internationally exhibited, the cosmopolite Indian born, New Jersey based artist Aprajita Lal's art is globally recognized. A passionate and lifelong proponent of the arts, her oeuvre underscores the belief that art is love, love is life, and art is life. Brilliantly integrating creativity into her contemporary master's oeuvre, her paintings embody the essence of the resplendence of the world. The presence of her works in prestigious collections across the world is an affirmation of her continually expanding reputation. Amsterdam Whitney Gallery is proud to showcase the art of this important Master.
---------------------
Here are few pictures from the opening reception of the exhibition: